My wife has gotten seriously into knitting in the past year and was recently wondering about how much she had knit in the past year. I was surprised that there doesn't seem to be a website for tracking such information, so decided to make one for her (and for anybody else who might want it).
The concept is pretty simple – just put enter how much you knit each day and it will add it up for you and can summarize it by project. It generates a little widget that knitters can put on their blogs to compare with others.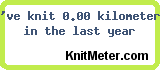 The site still needs a little work here and there, but is pretty functional at this point. Users are free to sign up and try it out – all for free of course. I'm looking for user input to see what still needs some work.